Welcome! In this tutorial you will learn how to suspend (delete) a student from you Moodle course.
If a student drops out of course, an instructor's first thought might be to unenroll or "delete" that student from the Moodle course. However, we recommend "suspending" the student's account rather than unenrolling so you don't lose the student's data. This is just in case that data could be useful in the near future. (In the past there have been instances where students have been unenrolled, and their course data was thus lost, but it would have been useful to have at a later date).
To "suspend" a student from your course, please follow the following steps:
Step 1:
click on "Users" and then "Enrolled users" in the "Administration" block.
---
Step 2:
Click on the gear next to the name of the student you want to suspend. (To permanently delete the student you would click on the X next to the gear.)

---
Step 3
Click on the drop-down menu next to status, and choose "Suspended", then "save changes"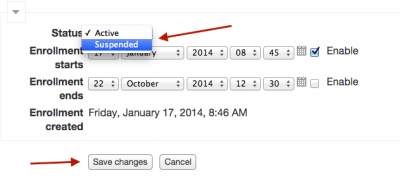 The student will no longer be able to access the Moodle course, nor will the student appear in the Moodle Gradebook, or activities. However, in the case that at some point in the future you or the student needs data from your course, you will be able to access that data.
---
---
For Support
If you encounter difficulty during any part of these tasks, please e-mail us at olt@iastate.edu for assistance, or stop by 306 Ross during our scheduled support hours.
If you cannot see the images in this documentation, click here.