Welcome! In this tutorial, you will learn how to begin customizing your Moodle from a template. The template includes a section at the top where your students can see basic information about your course, including the course title and number, your name and contact information, and your office hours.
Step 1:

Click "Turn editing on" at the top of the course site.

---
Step 2:
Next, click on the "Edit" button below the general section, then select "Edit settings."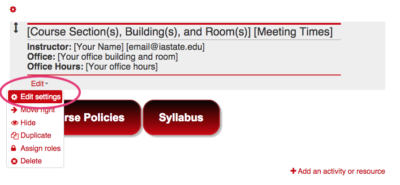 ---
Step 3:
Using the ATTO editor, type in the information relevant to your course. When you are finished, click "Save and return to course."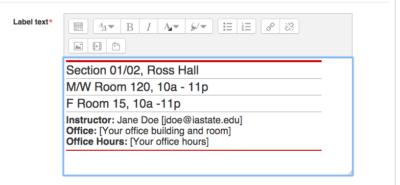 ---
---
For Support
If you encounter difficulty during any part of these tasks, please e-mail us at olt@iastate.edu for assistance, or stop by 306 Ross during our scheduled support hours.
If you cannot see the images in this documentation, click here.